When friends saw the view of Taipei 101 from 象山 Elephant Mountain, they were curious to know more.
Where is Elephant Mountain?
Can anyone hike up Elephant Mountain?
Nearest MRT station is "Xiang Shan", literally 象山. From here, it is a short walk (850m) to the Trail head (base)
Alternatively, you may wish to walk 1.3km from Taipei 101, but beware, it is easy to get lost in the small winding lanes (you will need GPS navigation!)
Most will hike from trail head (steps picture, GPS 25.027377 121.570769).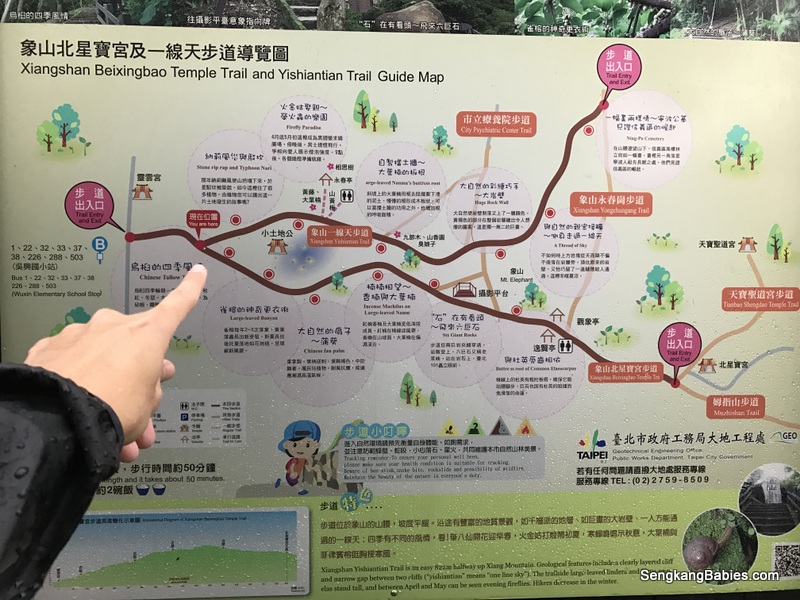 Even after 5 min climb, you can already see Taipei 101 from different perspective. This is a motivation for you to climb higher and get a better view.
Steps can be steep and seem endless, but go slow and everyone can make it to the top.  Can you spot the "elephant hill" outline below?
As an estimation, we took about 20 minutes to reach the top, hop and walk and rest. For first time hikers, aim for 30 to 40 minutes slow walk and have frequent rest.
Hiking in Taiwan is different from Malaysia (read our Gunung conquers). Taiwan treks and trails are well paved with steps and pavements, you do not need to crawl on on fours and get muddy.
Elephant Mountain is actually part of a 'animal mountain range" called 四獸山 (Four beasts). You got Elephant, Leopard, Tiger and Lion.  Conquer these four beasts to reach the peak at "九五峯" (this will require 1/2 day).
For casual tourists( you and me), we would recommend to aim for the "6 boulders" at Elephant Mountain, you will reach a few huge boulders along the climb, but who is counting the stones?
There will be platforms for visitors to take photos and enjoy the splendid Taipei metropolitan landscape view.
Day or night, you can expect some nice scenes. If you want some unique experience, hiking elephant Mountain will provide you the thrills, perspiration and sights.
In my previous solo trip, I climbed up the huge rock for some "epic" photos. the best view would be normally around sunset, this is also the most crowded period.
The girls did not joined us, they were shopping at 
五分埔 Wu Fen Pu (GPS 25.048103, 121.580061)

.

From Song Shan station (松山車站, GPS 25.049504, 121.578211), we had earlier plan to meet at 饒河夜市 Raohe for dinner and supper 🙂

Wu Fen Pu is just 5 min walk from Song Shan station. Wholesale shopping awaits shoppers and visitors.
If you love shopping and finding unique designs, Wu Fen Pu might be your cup of tea. There are endless rows of niche shops and merchandise.
Map below, Song Shan Station is in the middle of our activities. Elephant Mountain is South. Those heading to Ruifang, Keelung, Jiufen, Shifen will also have to transfer at the same train station. (Check out the other cities' blogs on out 10D9N Taiwan Itinerary here)
The highlight for the night is food again, and

饒河夜市 (Raohe) is

one of the popular night markets in Taiwan.
Raohe GPS 25.050917, 121.577669 , and there is a famous Mascot dog too 🙂
胡椒餅饒河 Black Pepper Bun (pork filling) is one of the most famous snacks. The buns are sticked to the side of the oven (urn?), heated to perfection and  piping hot. The juicy pepperish taste will stun your tongue.
The original stall always has queues 20 minutes long! I tried the smaller stall outside which claims "Not Nice Eat for Free haha!"
Seriously, I cannot tell the difference between the two stalls 🙂
Just grab smaller portions and share with families, that is the way to enjoy Taiwan Night Market street food.
December weather is cool, so anything soupy or fried would warm our tummies.
The torched beef cube are available at many night markets. The one at Raohe is over-rated.
This one is good too, deep fried ribs. No bones and crunchy chewy.
Raohe is niche and small compared to Shilin night market 士林夜市. But you can easily spend 2 hours eating, shopping and exploring 🙂
Games for kids, and we did not do the traditional Face massage (With strings).
Good range of souvenirs, for humans and pets :p
There are a lot of dogs lovers in Taiwan.
Do take a photo at the famous 松山慈祐宮 Ciyou Temple just outside Raohe Night Market too.
You have seen the popular Night scene of Raohe Night Market. Cross the river and visit the LOVE bridge too, this bridge is beautifully illuminated in the evenings.
In the day time, the meandering river offers a panoramic view.
We would recommend renting a YouBike to cycle along the scenic river way too. The design is similar to Singapore's Park Connectors, but Taipei's cycling tracks are much wider. (you will need a local Taiwan number to rent a YouBike)
Besides the bridge and Elephant Hill, I have two other less common attractions to recommend.
a) I ran 13km to/fro from Raohe to Songshan Airport (Domestic) for some cool plane spotting too. 濱江180 (Binjiang) is super happening if you are  plane lover. Many folks will YouBike here too. (GPS 25.070849, 121.538490). More aeroplanes photos on Facebook album.
b) If you are visiting in December, take note the most-happening Christmas decorations and countdown activities are not around Taipei 101.
Everyone in Taiwan knows this, but visitors will always assume Taipei 101 is the spot (maybe due to New Year Fireworks countdown images?)
Head South-West to outskirt Banqiao 新北市板橋區 (GPS 25.013666, 121.464886). More details here.
All our 10D9N photos are in our Facebook album, do pop by to select your best activities.
Photo albums :
–Day 1 Aowanda, Cing Jing
–Day 2 Cing Jing
–Day 3 Xitou Nature Education Area, Monster Village, Sun Moon Lake
–Day 4 Taichung (Zhongshe flower, ShengXin station, Cycling, Fengjia)
–Day 5 Taichung (Animation Lane, Rainbow, Miyahara)
–Day 6 Keelung 基隆
-Day 7 Ruifang, Jiufen and Shifen
–Day x Taipei HomeAway and Neighbourhood
–Day 8 永康, Xi Men Ding, 象山, 饒河 Raohe
–Day 9 and 10 北投 Beitou, Toyshop, 士林 Shilin
Blog posts :
** Taiwan Itinerary for families 
–Day 1 Google Sheet, Aowanda, Cing Jing
–Day 2 Cing Jing Farm
–HomeAway Recommendations for Taiwan
–Day 3a Xitou Nature Education area (溪頭)
–Day 3b Monster village 妖怪村 and Sun Moon Lake
–Day 4 Cycling Taichung 台中 
–Day 4a 台中 Taichung  attractions
–Day 5a 台中 Taichung food Ice cream and Bubble Tea
–Day 5b 台中 Taichung Fengjia night market
-Day 6 基隆 Keelung
–Day 7a Jiufen attractions
–Day 7b Shifen attractions
–Taipei Neighbourhood around our HomeAway Vacation Home
–Day 8a Yong Kang Street and Xi Men Ding
–Day 8b Raohe Night Market, Wu Fen Pu and 象山 Elephant Mountain
Instagram #sengkangBabiesTaiwan