Chiang Mai Elephant Jungle sanctuary (EJS) is the best activity in our Chiang Mai itinerary! If you love elephants, you will get an opportunity to get super close to these gentle giants. (TripAdvisor review)
There are a few no-ride elephant venues in Chiang Mai, we chose Elephant Jungle Sanctuary because it seems to be more active in Instagram.
The tickets are not exactly cheap, so we need to make sure that our tour operator is reliable.
Elephant Jungle Sanctuary is about 2.5 hours drive from the city (near to Doi Inthanon). Majestic mountain ranges beckon to us over the horizon.
On a side note, you might have stopovers at rest points (R&R), do look out for a famous local cuisine, braised pork leg. It looks plain and ordinary but super succulent and tasty!
Back to the elephants, EJS estimated GPS location is 18.658668, 98.648556. Do take note Elephant Jungle Sanctuary do not entertain walk-ins. You must secure a booking through their website or phone, and a 4×4 pickup will pick you up from your hotel on tour day itself (if your location is 5km from old city)
Visitors have to change into "tribe" uniforms, and undergo an orientation. Operation of EJS, feeding protocols, and simple commands for the elephants etc.
We learnt why EJS promotes No-riding policy because Asian elephants' spines are not meant for carrying loads or humans. We might end up hurting them. Secondly, Elephants (and animals) which are trained to perform and entertain might be subject to abuse for them to "conform" to instructions.

We do not wish to harm these majestic beasts' wellbeing.
Elephants have big appetite, they can consume up to 300kg of food every day! We know they were always happy to receive more bananas!
We do not need to peel the skins, Elephants consume them whole. And please save the bananas for the elephants, not humans :p
Bon Bon means "lift your trunk" and feast on bananas. These elephants are so adorable, do pardon their slightly mushy snouts haha.
Some of the elephants were rescued from manual labour like logging or farming. Some were chained before and subject to other forms of cruelty.
In Chiang Mai Elephant Jungle Sanctuary, the operators depend on tourism receipts (education and awareness campaigns), and donations to let the elephants retire peacefully.
Both kids and parents enjoyed the elephants interactions!
Part of the package includes "mud bath" and "showering" with the elephants. Wow, their huge surface area means we need to work fast. Elephants use mud as a form of sunscreen and shield themselves from pesky mosquitos.
The guide did warn us that elephants can coconut "lingo for shit"  into the pool without warning. And Elephant poos are enormous lump of Yucks!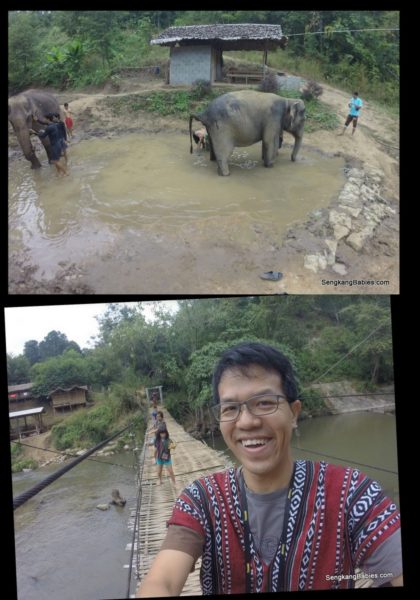 The guides and crew were all friendly. "One" bringing Xin cross the bridge, and "Mario" acting wacko haha 🙂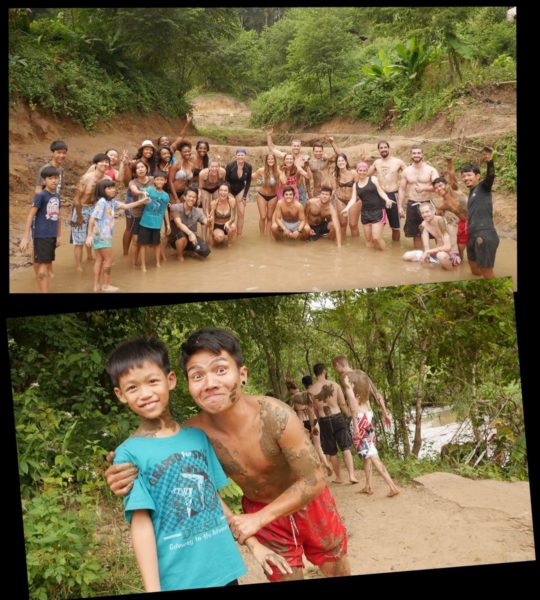 The crew are very considerate too. If they noticed you are too clean, they will cake you with mud. Natural spa treatment yeah 🙂
Majestic yet gentle beasts. Elephants easily weigh in excess of 500kg, do not stay in their blind spots!
Elephant love to bath, humans had fun too, Songkran style! Did I mention the waters in the hills are cold.
After bathing the elephants, we trek back to a waterfall. Do take note of the strong current and chilling water.
Video  (YouTube link): Checkout waterfall and elephant mud spa. Highly recommended for families 🙂

A trip to Elephant Jungle Sanctuary provided us with an educational yet enriching trip. Our kids understand they should never ride an elephant again.
Lunch at EJS was simple yet one of the best during our Chiang Mai stay (no exaggeration!) . Simple vegetable and delicious curry fused perfectly and everyone requested for second helping.
Chang beer is optional, and Chang means Elephant in Thai 🙂
Dining spot offers a scenic view of the waterfall.
You will get dirty with mud and sometimes a little bit of poo.
You will feel cold, and shiver at the waterfall.
But showering and feeding with the elephants will bring back everlasting memories. We will never forget our friendly encounters with the elephants.
What a mammoth experience 🙂
Do take note that baby elephant might not always be available. Elephant Jungle Sanctuary have different camp visits everyday, and venue might be slightly different.
A half day tour is more than enough. EJS do have 2D1N itinerary.
– Fees – Adults THB 1,700 (about SGD $65), Child THB 1,300
– GPS 18.658668, 98.648556
– Do take note transport will be provide by EJS, you cannot drive in yourself
– More photos of EJS on their Instagram and website
~~~ ~~~ ~~~
If you are looking for shopping centres in Chiang Mai, you would be disappointed. All our 5D4N Chiang Mai Family Itinerary photos have been uploaded :
– 5D4N Chiang Mai Family Itinerary
– Day 1 photos — Airbnb stay, Grand Canyon Waterpark
– Day 2 photos – Doi Inthanon
– Day 3 photos – Buatong waterfall, Siam Insect Zoo, Doi Suthep temple
– Day 4 photos – Elephant Jungle Sanctuary, Old city
Follow out hashtag #skbChiangMai