20,000 fishes waiting for us at Adventure Cove Waterpark's Rainbow reef and no queue! We jump in after grabbing our snorkel kits 🙂
Younger kids who have not try snorkeling before are free to free style and marvel at the fishes. Everyone is required to wear life vest. Get kids to test their mask are secure and not seeping before swimming.
As the water is very salty, kids will get uncomfortable if they accidentally drink the water. Parents can hold their hands and let the current push you along.

Video : Check out the GoPro underwater view at Rainbow Reef.

Our first ride was Riptide Rocket, one of the more popular rides at Adventure Cove Waterpark. No GoPro allowed but both Daddy and Boon Wee love it. Slide consists of combination of twists and quick drop and pickups! Those above 1.8m might experience another sensation. Your head is always quite near to the tunnel entrance, keep low 🙂
As the morning slips away, queues started to form at the popular rides and slides.

There is always space for kids and family at Big Bucket Tree House. Kids can run in a safe environment, although they get tangled up or "SPLASHED" sometimes 🙂

Video :Watch them run around the Tree House, and Daddy challenge Boon Yee down the Duel!

Do not miss the 4m jump at Brickworks. Some of you might finally understand why Mr Bean hesitate during his dive (but his was at least 5m tall). Besides the jump, there are various activities to keep kids entertained.
No spin, no sommersault (Singapore is always too SAFE!), but you can curl into a ball for additional impact. Daddy showoff some rope-climbing tricks to ring the bell too.
Think SOC (army obstacle course) on water, would be a lot more Fun if we can bring in our GoPro!

Lazy river, just follow the current and drift away, we must have gone around at least 4 to 5 times.

Boon Yee posing with his new friend. This is as close as we can get to the rays (those BBQ stingrays not counted). Any closer and fee applies. (check out the stingrays in video above)

Sunny day, huge waves at "Bluwater Bay", everyone had Fun bouncing up and down, trying to resist the next crest (waves are really tall even for 1.81 Daddy). Smaller kids should wear life jacket.

Boon Xin gave the thumbs up for Adventure Cove Waterpark, she would like to visit again 🙂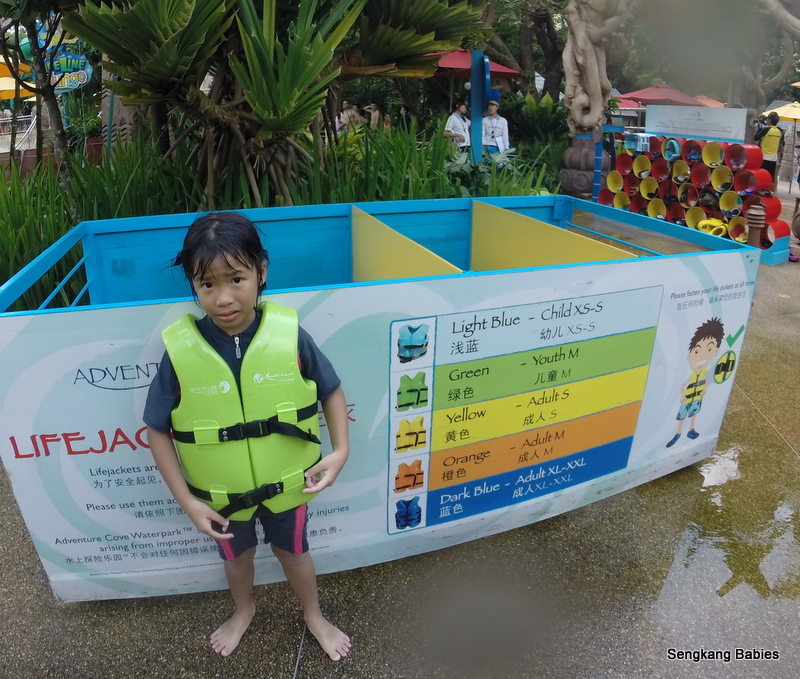 – Map and carpark advice can be found on our previous Adventure Cove visit
– the rides might actually be more tame than Legoland's Waterpark 🙂
– details and ticketing at RWS website
– More Fun photos can be found on our Facebook album