Hiking the Green Corridor after our fun trip to Bukit Brown cemetery (blog review), this is part 2 of our day hike.
Recently, the Green Corridor (or some call Rail corridor) has been hot in the news.
–https://www.nparks.gov.sg/railcorridor (all news about Green Corridor)
–CNA report (Green Corridor features)
From Bouna Vista MRT, head to the underpass at Exit B (Green line) and you will see a track (GPS 1.309262, 103.791150).
Some segments of Green Corridor are not ready yet. Photo below shows the stretch towards Tanglin Halt, Tanjong Pagar direction.
But we did notice the pavement condition seems ready for exploration.
Green Corridor should be ideal for walking, jogging and cycling. Go and explore 🙂
I had wanted to cycle the Green Corridor  trail from Kranji Close to Tanjong Pagar, almost 24km track.
Our trail from Bouna Vista to Hillview is about 8k, and it will help me understand whether the trail condition is suitable for my foldie (or maybe too much mud).
However, the first obstacle for cycling will be the huge amount of human traffic! Many folks are excited about the newly reopened rail corridor.
Along the Green Corridor trail, the trumpet trees are flowering and littering the grounds with sakura-like carpet. Get the latest updates from Nparks fanpage.
I would like to share nostalgic photos from KTM trains of yesteryears. Our ride from Tanjong Pagar to Johor Bahru was cheap and fast!
The Green Corridor holds many nostalgic memories for me. I can still remember the good old KTM train cutting across the green forestation on our way to JB. The kids were still so young then.
*Old train blog posts here and here
Along Upper Bukit Timah

Checkpoint after Bukit Panjang (GPS 1.378927, 103.760366), near to Lot 10 (after Mindef stretch). This was where the station-master exchanged token with train driver.

Photos taken from train cabin, can you identify the landmarks below?

Back to present day, this is one of the checkpoints along Green Corridor. From the elevated point, one can look down the "green valley" (GPS 1.326578, 103.781538).
Steven looking out for insects and birds.

The other side of the "river" will be old Holland road.
(Photo below) From other hikers, I learnt that the ferns have matured and creep up the trees. From far, it seems like the tree is dressing up!
Do look out for interesting flora and fauna along the trail. We spotted many insects, lizards and even some giant plants below.
The plants and flowers enhanced the walking experience. Slow down your pace and enjoy the sights and sounds.

Steven playacting with the huge leaf, we did not exert any strength.
Below checkpoint is more popular on Instagram, Old Bukit Timah Railway Station (GPS 1.334265, 103.781295).
And the nearest MRT is only 500m away, King Albert Park.
The tracks and building has been conserved as heritage. And I suspect some F&B will be popping up soon.
Truss bridge (iconic black iron bridge) is popular for selfies, but be prepared to queue :p
The gravel pavement adds to the experience. You will encounter two such bridges along the path, the second one is at Rail Mall.
Road works ongoing along Bukit Timah road. Coast to Coast hikers will walk under the Truss bridge.
You may refer to Nparks' map for 8 different entry points to the new stretch of Green Corridor. Entry 4,5 will bring you to Hindhede Quarry and Bukit Timah Nature Reserve.
You will also spot many distance markers, informing you distance to Woodlands or Tanjong Pagar (opposite direction).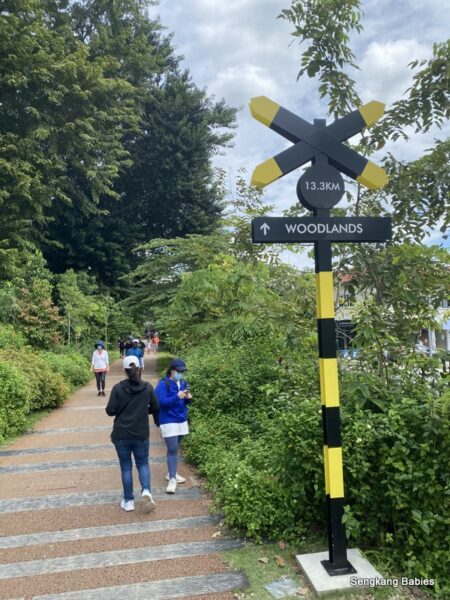 Green Corridor trail will be partial pavement and dirt track. Take note dirt tracks might become muddy during rainy days.
No more "commissioned" graffiti at this wall.
On hindsight, it was a good deal to release KTM railway line back to Singapore control in 2010. Read article from the TheGreenCorridor.org
Singaporeans now have so much more greenery to explore!
Spot the Singapore Quarry bridge (GPS 1.354975, 103.769589) above, we could exit left via the steps and walk towards Dairy Farm Nature Park.
The second truss bridge at the Rail Mall (GPS 1.357837, 103.767642).
View of Rail Mall from the top.
Is Green Corridor and Rail Corridor referring to the same thing? Does not matter, I love the trail!
The last 300m towards Hillview MRT was muddy.

Love our trail walking.
Singapore is fortunate to have all these small pockets of nature to explore. I hope more families will appreciate our greens and rich animal diversity.
I would like to see more secondary forest (Clementi, Dover) protected around us. We still need BTO and industrial land but I hope future planning will protect more greens.
Hiking the Green Corridor soon? Get the latest Green Corridor updates :
– https://www.nparks.gov.sg/railcorridor and
– http://www.thegreencorridor.org
*You may read our previous posts on Green Corridor and KTM rides here (train from Tanjong Pagar), here or here (train from Woodlands).
-Do explore Queenstown and Tanglin Halt's rich heritage here.  Tanglin Halt will be torn down soon.
–Our family's hiking adventures are documented here  https://sengkangbabies.com/tag/hiking (when can we scale Gunungs again)
-Our Coast to Coast hikers can detour along route and explore the Green Corridor too. Read my C2C review.
More photos can be found on SengkangBabies Facebook album
If you love nature, do pop by the following posts:
– Hiking Green Corridor
– Clementi Forest (photos)
– Kranji Forest (photos)
– Bukit Brown and Avatar trees
ps.. Updated Apr 2023.  The new Green Corridor start point is at Kranji MRT. Refer nParks link.